HK Cup
-
HK Derby
-
Entries
-
Results
-
Free Tips
-
HK Audio
-
Home


Racecourses in Hong Kong

There are 2 major racecourses (racetracks) in Hong Kong. They are Sha Tin and Happy Valley. Happy Valley is the oldest racetrack in Hong Kong being founded way back in 1846. While the Sha Tin track has only been around since 1978. Both offer world-class horse racing.

Sha Tin, complete with its Penfold Park complex is located in the New Territories. It is the site of several world renowned races, the premier ones being The Hong Kong Cup, The Hong Kong Mile, The Hong Kong Vase, and The Hong Kong Sprint. All races in Hong Kong are run in clockwise direction. Once a tiny village on the shores of a shallow inlet, Sha Tin, is now a bustling new town of more than 600,000 people.


Racing Surfaces: There are two types of racing surfaces at Sha Tin. A Turf Course which is one of the finest in the world and an All Weather (synthetic dirt track) located in the center of the turf course.

Entry To The Racecourse: When entering the racecourse you may be surprised by how large it is, there are certainly many things to see and do at Sha Tin.

No one is allowed into the racecourse that is under 18 years of age. This includes children or babies that might be with you. Sorry, but the laws in Hong Kong are strict in regards to this.

The gates to the racecourse open at 11:00 a.m. . The normal entry ticket costs $HK10. If you are a tourist visiting Sha Tin you can purchase a ticket to the Members Enclosure for $HK 130. This will give you a VIP experience. Be sure to bring your passport, you will need it also. The Members Enclosure is located near the parade ring and will give you excellent access and views of the races. Read more here about tourist information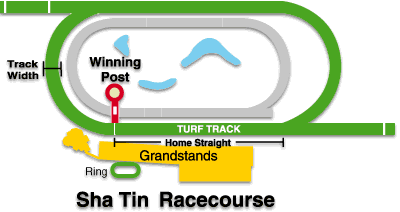 Come Horse Racing Tours
: There are 2 'Come Horseracing Tours' organized by the Hong Kong Tourism Board, exclusively for overseas visitors staying in Hong Kong for less than 21 days. These include an admission badge and buffet-style meal inside the Visitors' Box. For details, please call (852) 2366 3995 or (852) 2508 1234, or send an e-mail to chrdept@splendidtours.com.