Racecourses in Hong Kong

There are 2 major racecourses (racetracks) in Hong Kong. They are Sha Tin and Happy Valley. Happy Valley is the oldest racetrack in Hong Kong being founded way back in 1846. While the Sha Tin track has only been around since 1978. Both offer world-class horse racing.
Sha Tin, complete with its Penfold Park complex is located in the New Territories. It is the site of several world renowned races, the premier ones being The Hong Kong Cup, The Hong Kong Mile, The Hong Kong Vase, and The Hong Kong Sprint. All races in Hong Kong are run in clockwise direction. Once a tiny village on the shores of a shallow inlet, Sha Tin, is now a bustling new town of more than 600,000 people.
Sha Tin Race Course: Located at Sha Tin, in the New Territories, and can be reached easily by Kowloon Canton Railway, stopping at Racecourse Station. Phone 2695-6223

Entry To The Racecourse: You can simply pay an admission fee of HK$10 at the entrance of either racecourse to watch the action on the track in Public Stand. As tourists staying in Hong Kong for less than 21 days, you can buy a member guest badge to visit Member Stand. The member guest badges are available for sale at our designated off-course betting branches. You may call our Hotline on 1817 for branches location and relevant details or send an e-mail to hotline@hkjc.org.hk for more details.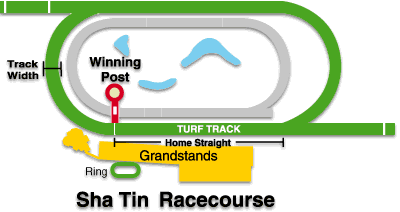 Come Horse Racing Tours: There are 2 'Come Horseracing Tours' organized by the Hong Kong Tourism Board, exclusively for overseas visitors staying in Hong Kong for less than 21 days. These include an admission badge and buffet-style meal inside the Visitors' Box. For details, please call (852) 2366 3995 or (852) 2508 1234, or send an e-mail to chrdept@splendidtours.com.
Racing Surfaces: There are two types of racing surfaces at Sha Tin. A Turf Course which is one of the finest in the world and an All Weather (synthetic dirt track) located in the center of the turf course.