沙田馬場
報名表
騎師資料
Trainer Statistics
評馬人貼士
參賽馬匹往績紀
賽事直播
賽期表
壁紙
---
你知道吗?
Hong Kong means 香港的意思
"fragrant island" "香岛"
Sha Tin means 沙田的意思
"sand field" "沙场"


---
"香港赛马是比在世界其他地方更令人兴奋的,有数量有限的比赛和马匹的数量有限,这样就使得每场比赛确实非常特别。
"
— Basil Marcus, South African jockey who rides in Hong Kong
-罗勒马库斯,南非赛马在香港乘坐
在任何地方在世界上是如此重要,或赞赏,因为它在香港的赛马。
The fans of racing in Hong Kong are inspirational.
在香港的赛车迷是鼓舞人心的的。
Horse racing here reaches excitement levels of football (soccer) in Europe, or baseball in the United States.
这里的赛马达到兴奋水平,在欧洲足球(足球),或在美国的棒球。
Crowds pack the stands at both Sha Tin and Happy Valley Racecourses where average attendance is approx.
人群包沙田及跑马地马场,平均上座率约在看台上。
46,000 per race card.
46000每场比赛卡。
Where betting pools routinely reach into the hundreds of millions of dollars.
经常达到数百到数百万美元的彩池。
It is truly an exciting event to attend live racing in Hong Kong.
这确实是一个令人兴奋的事件,出席在香港居住的赛车。
The Hong Kong Jockey Club receives $10.4 billion in annual betting revenues from Sha Tin and Happy Valley.香港赛马会收到在沙田和跑马地的年度博彩收入10.4亿美元。 By comparison, all the thoroughbred racetracks in the US combined take in just over $12 billion--and there are 167 of them (source fortune magazine).相比之下,美国组合中的所有纯种马赛马场在刚刚超过120亿美元 - 其中167(源"财富"杂志)。
More than a million people in Hong Kong place $215 million in bets each race day.超过一百万香港市民的地方$ 215万元的投注每个比赛日。 Roughly 650,000 people in this city of 6.2 million maintain telephone betting accounts, so they can wager from anywhere their cell phones will work.在这620万的城市大约有65万人保持电话投注户口,使他们可以从任何地方,他们的手机将工作下注。 Another 62,000 rent dedicated hand-held computers to retrieve up-to-the-second odds and place bets via modem from anywhere in the world.另有62000租金专用手提电脑,检索到的第二赔率下注,并通过调制解调器从世界的任何地方。
Purses are some of the richest in the world.钱包是一些世界上最富有的。 Ensuring top class competition and routine foreign invaders, who try to take a piece of the large pie.确保一流的竞争和常规的外国侵略者,谁试图采取一块大蛋糕。 Horse racing in Hong Kong is truly world-class.在香港的赛马是真正的世界级。 Horse racing fans everywhere should appreciate Hong Kong as a true racing paradise !!赛马迷们都应该明白香港作为一个真正的赛车天堂 !!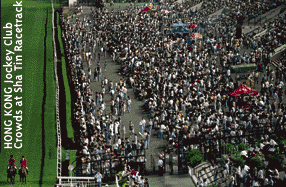 驾驶"华盛顿邮报"
Winning margins at Sha Tin are often slim, with many races decided in the final yards. 在沙田胜出利润率往往偏瘦,决定在最终码的许多种族




新年的龙
During the chinese new year impressive fireworks fill the skys above and dragons fill the streets below. 在中国新的一年里,令人印象深刻的烟花填补skys以上和龙填写下面的街道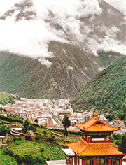 风景秀丽的中国农村
Hidden villages line the scenic valleys of this historic and beautiful land. 隐秘的小村庄,行这历史和美丽的土地的风景秀丽的